NEXT DAY DELIVERY Available
Over 32,000 products
UK DELIVERY FROM £7.95+VAT
| | | |
| --- | --- | --- |
| | The UK's Most Haunted Hotels | |
The UK's Most
Haunted
Hotels!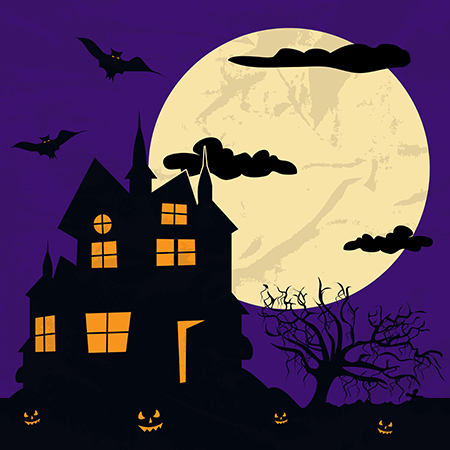 We've all heard those chilling (or silly if you're not a believer) stories about haunted houses, castles and hotels and the legends of people who have disappeared or died in those places! And it is these scary legends that drives certain people to look for haunted hotels to stay in, in the hope of catching a glimpse of a ghost!

The great thing for wannabe ghoul-hunters is that the UK is blessed with an abundance of haunted hotels. So for those brave souls who
want to spice up their stay, we've selected the 11 most haunted establishments in Britain, for you to choose from for your next trip away!
Chillingham Castle

Northumberland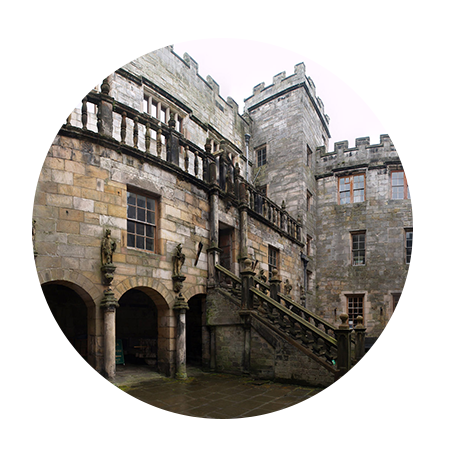 If you're staying in the rather picturesque and beautiful Chillingham Castle in Northumberland, you can expect to be disturbed in the night. Inside this stunning castle, set in the Northumberland countryside, there have been several sightings of the ghost of Lady Mary Berkley who wanders the house and chapel searching for her husband, as well as the 'Blue Boy', who you can hear moaning and crying every night!
Ettington Park Hotel
STRATFORD-UPON- aVON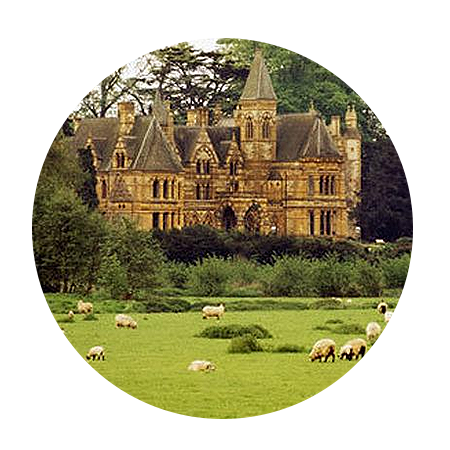 The Ettington Park Hotel really does look the business. It's truly stunning and grand architecture built within 40 acres of parkland, means it is obviously going to be haunted. Having been previously crowned the most haunted hotel in Britain, it really does live up to the crown, as guests have sighted supernatural occurrences, including the ghost of Lady Emma who glides along corridors & through walls. And if that wasn't creepy enough, keep an eye out for the the rogue army general and hooded monk who patrol the grounds & communal areas!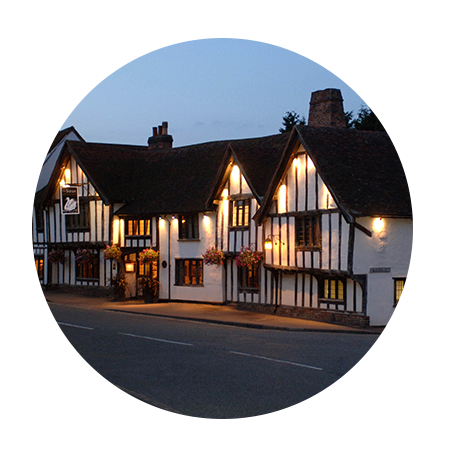 If you're heading for The Swan Hotel in Suffolk, you may want to avoid room 15 (or maybe you'll want that specific room), as there have been several ghoulish acts, that would warrant a visit from the ghostbusters! Guests sleeping in room 15 have often been woken by the ghost of a 19th century jilted bride, who hanged herself in that very room!
Schooner Hotel
NORTHUMBERLAND
The Schooner Hotel located on the tranquil Northumberland coast is famous for giving its guests an overnight fright. People staying in
the hotel have complained about weird noises, electrical devices turning on and off by themselves, and doors swinging open & close
without the touch of a human!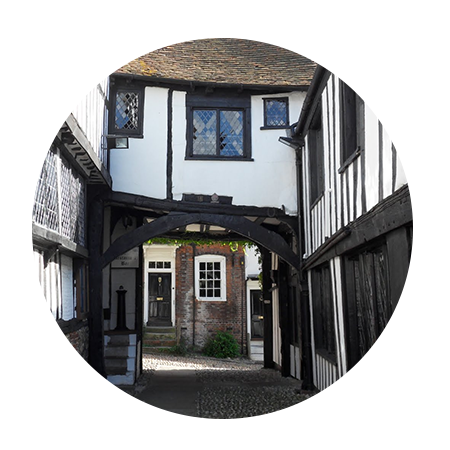 The Mermaid Inn's ghostly goings-on have attracted so much attention that TV cameras (from Most Haunted) have been invited in to investigate the activity. Overnight guests are said to have seen 16th century ghosts walking through walls and chairs moving without human interaction – spooky stuff!
Royal George Hotel
GLOUCESTERSHIRE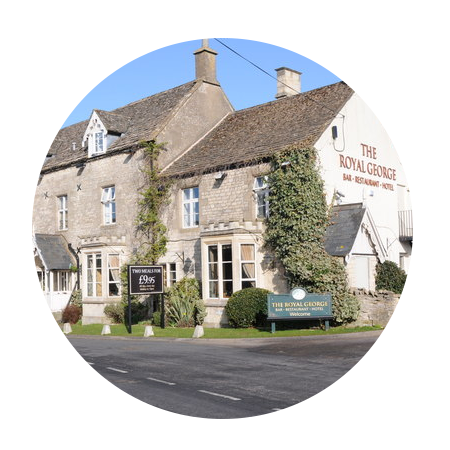 The Royal George Hotel really is a lovely quaint place to stay for a
few days, but when darkness falls it can be a very different atmosphere. Several guests and staff members claim to have seen the sobbing ghost of a young girl in room 22 and a ghostly woman in bridal white floating through the corridors and up the stairs. If you want a guaranteed ghost encounter, this is the place to stay!
The Black Swan Hotel
DEVIZES
If you're curious about ghosts and weird happenings, The Black Swan Hotel is a must visit. The historical 15th century décor and outstanding timber structure, has inadvertently made it the perfect place for ghost to congregate. The most commonly sighted ghoul is that of a grief-stricken young woman who wanders the halls and walls all night every night – and just for that extra dab of weirdness, there has also been reports of detached legs (with no upper body) wandering the premises!
Littlecote House Hotel
BERKSHIRE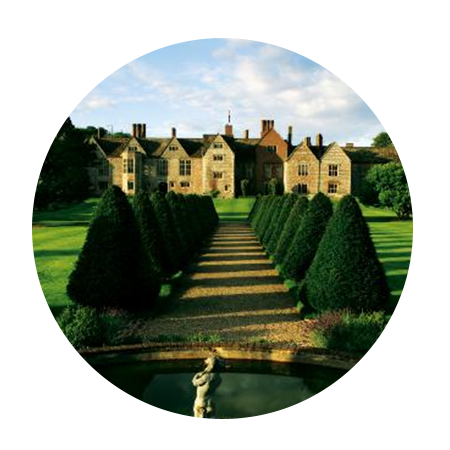 This breathtaking and striking Tudor hotel in Berkshire, really does
provide guests with a few shocks throughout the night time. Some of the supernatural scenes have included the sight of a ghostly snarling black dog that guards the main staircase at night, while others are adamant they've seen a sheet-white woman rocking a baby to sleep and some absolutely terrifying dark shadows darting round the rooms!
The Skirrid Mountain Inn
wales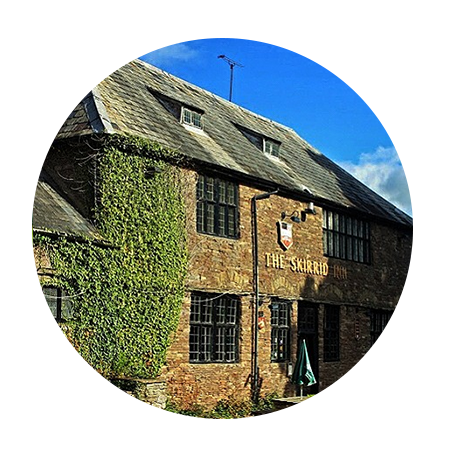 The paranormal activity that has taken place in The Skirrid Mountain Inn really is scary stuff. The ghosts of former prisoners, who were hanged in this very Inn are said to roam the rooms and pick out guests for execution. You may think this is complete cobblers, but some guests have claimed to have actually felt a rope tighten around their neck, and been left with rope burns & cuts on their necks in the morning!
The Bell Inn
NORFOLK


If you've ever stayed at the quirky Bell Inn, you'll know all about its paranormal sightings, and if you've never you're going to be in for quite the night. There have been several reported sightings of the sound of children playing & laughing in empty rooms, keys rattling during the night, a hooded monk shuffling through the corridors and the spirit of former landlady Betty Radcliffe floating through the Inn!
So there you have it, the 11 most haunted hotels in all of Great Britain. So if you fancy yourself as wannabe ghost-hunter or just curious about seeing an actual ghost with your very own eyes, why not take a trip to one of these places and see if they live up to expectations! Remember to look for any paranormal clues left behind on hotel bedding, hotel towels, hotel bed linen and guest house supplies.
| | |
| --- | --- |
| | |