NEXT DAY DELIVERY Available
Over 32,000 products
UK DELIVERY FROM £7.95+VAT
Simple Luxuries To Improve Your Guest's Stay
12 Jul 2023, 4:38 PM
Simple Luxuries To Improve
Your Guest's Stay
The perfect hotel stay is made up of a combination of simple luxuries. From the perfect night's sleep to the little touches that make the stay a truly special one, there are many ways to improve the experience for your guests. From the comfiest robes to the tasty amenities, here are some of the simple luxuries that can help you make your hotel guests feel pampered and appreciated. By offering these simple but effective touches, you can create a hotel experience that your guests will never forget.
Luxury Toiletries
Providing luxury toiletries in your hotel will significantly improve your guests' stay. These items may be small, but they can make a huge difference in the overall experience of your guests. Luxury toiletries such as lotions, bath oils, and soaps offer guests a touch of luxury and pampering during their stay. High-end brands often feature premium ingredients, exquisite fragrances, and specialised formulations that provide a spa-like experience. When they encounter products that are different from their everyday routine, it adds an element of novelty and excitement.
Shop Luxury Hotel Toiletries
Bathrobes & Slippers
Providing your hotel guests with bathrobes and slippers is a simple, yet luxurious touch that can go a long way in improving their stay. Not only do bathrobes and slippers add a touch of luxury to the guest experience, but they also provide comfort and convenience. By offering your guests a soft, comfortable robe to slip into after a shower or bath, you can make them feel truly pampered and relaxed
Shop bathrobes and slippers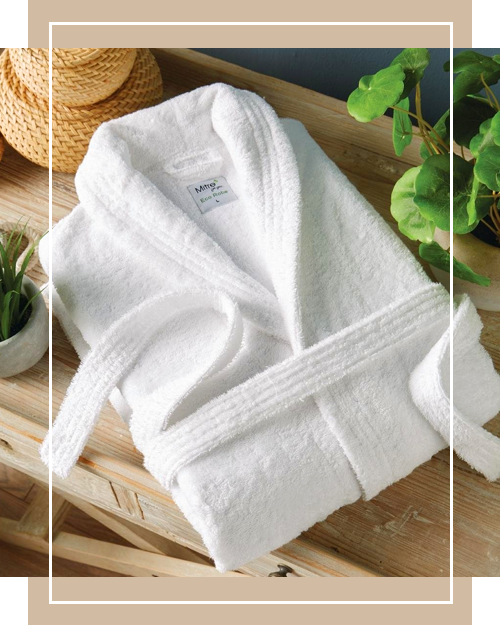 Complimentary Hot Drinks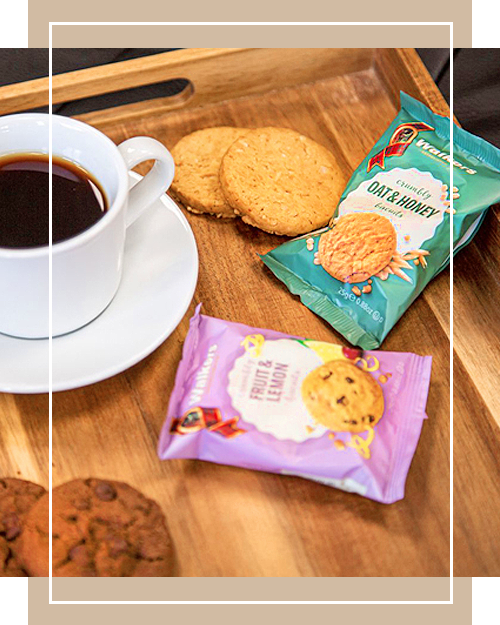 Hot drinks like tea, coffee, and hot chocolate can be a great way to start the day or to end the night. Supplying these in the rooms can help your guests relax and unwind. It can also be a nice gesture that shows your guests that you care about their experience. Not only can it provide a sense of comfort, but it can help your guests save money from having to buy drinks elsewhere. Furthermore, providing hot drinks can create a more home-like atmosphere for your guests, which can help make them feel more at ease.
Shop tea, coffee, and hot chocolate
Room Service
Room service can serve as a unique selling point for hotels, differentiating them from competitors. The availability of 24-hour room service can be particularly appealing to guests arriving late at night or those in need of a meal outside regular dining hours. By providing this added convenience, hotels can attract and retain guests who prioritise flexibility and personalised services.

Room service also presents an opportunity for hotels to showcase their culinary offerings and highlight their talented kitchen staff. Quality and well-presented food delivered promptly to guests' rooms can create a positive impression and contribute to the overall satisfaction of the stay.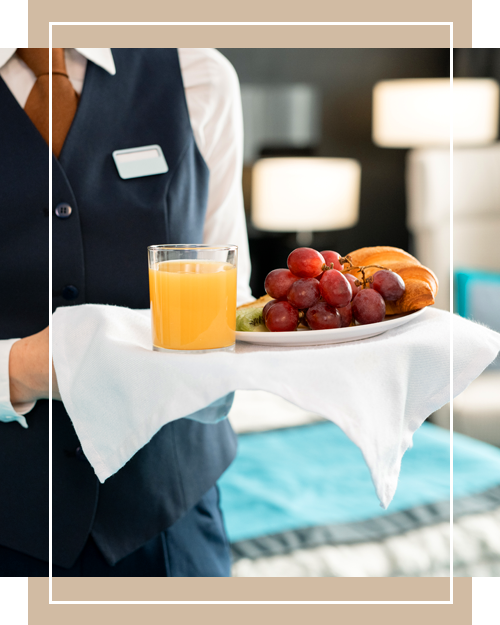 Mini-Bars And Wine Coolers
A well-curated mini bar can showcase a hotel's attention to detail and commitment to providing a high-quality experience. By offering a selection of local or regional products, unique beverages, or specialty items, hotels can add a touch of local flavour and charm to the guest experience, distinguishing themselves from competitors.

Guests will appreciate being able to choose from a variety of drinks without having to leave their room and the convenience of being able to store their own bottles of wine.
Shop Mini Bars
A Comfortable Bed
The importance of a comfortable hotel bed cannot be overstated. It is one of the most significant factors that contribute to a guest's overall satisfaction and the quality of their stay. A comfortable bed made up with quality hotel bedding ensures that guests can rest, relax, and rejuvenate, providing them with a sanctuary away from home.

Guests are more likely to have a memorable and enjoyable experience when they feel well-rested and pampered. They associate a comfortable bed with a high standard of service and attention to detail, leading to positive reviews, repeat visits, and recommendations to others.
Shop Hotel beds
Overnight Restaurant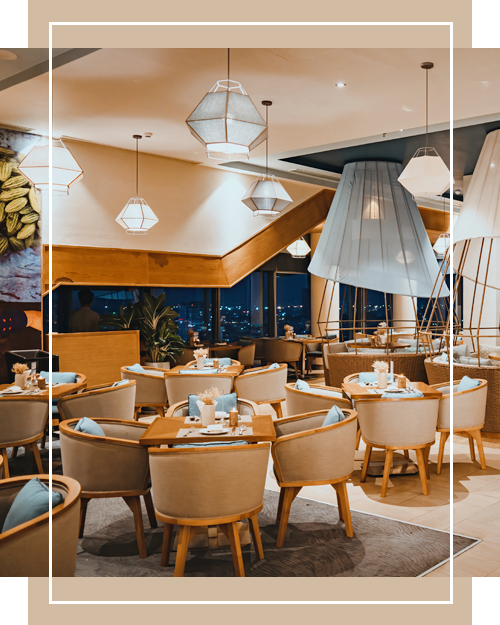 Having an overnight restaurant in a hotel offers numerous benefits for guests. Firstly, it provides convenience and flexibility for travellers arriving late or those with different time zones. Guests can satisfy their hunger and cravings at any hour without the need to leave the hotel premises, ensuring a seamless dining experience. An overnight restaurant also caters to guests who may have hectic schedules or prefer to dine at non-traditional hours. It accommodates their needs, allowing them to enjoy a meal or a snack whenever it suits them, whether it's after a late-night event or during an early morning departure.

Furthermore, an overnight restaurant can enhance the overall guest experience and satisfaction. It adds an extra level of service and convenience, making guests feel valued and well taken care of. It provides a sense of comfort and relaxation, knowing that food and refreshments are readily available around the clock.
Accessible Cloakroom
Having an accessible cloakroom for your guests can be a great way to provide a more comfortable and convenient stay. A cloakroom can be used to store guests' belongings before check-in and after check-out. This can be especially useful for those that arrive before they're able to check-in and take their luggage to their room, but would like to offload their belongings. It's also helpful for guests that need to check-out of their room, but still require somewhere to store their luggage for the day. An accessible cloakroom provides extra security, giving them peace of mind that their possessions are kept safe.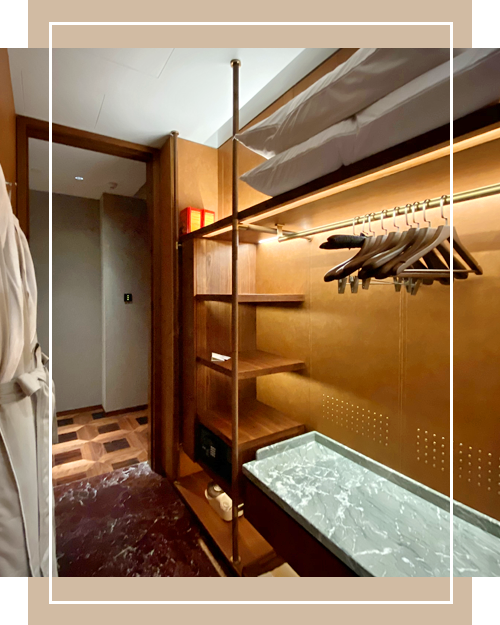 Conclusion
In conclusion, incorporating simple luxuries into your guests' stay can have a profound impact on their overall experience and satisfaction. By paying attention to the finer details, such as providing high-quality toiletries, a well stocked mini-bar, and a comfortable bed, you create an atmosphere of indulgence and relaxation.

In the competitive hospitality industry, it's the small details that make a big difference. By incorporating these simple luxuries into your guest experience, you can create a memorable and exceptional stay that sets your hotel apart from the rest, ensuring a truly remarkable and enjoyable experience for every guest.