NEXT DAY DELIVERY Available
Over 32,000 products
UK DELIVERY FROM £7.95+VAT
How to Clean a Hotel Room Step by Step
8 Jan 2021, 5:10 PM
How to Clean
a Hotel Room
Step by Step
Staying in a hotel room is often a special occasion for many people. But whether they are travelling for work or pleasure, and whether they are a regular visitor or this is a one night stay, every guest deserves a five-star standard cleaning service. The little things you do as a housekeeper make a big difference in how they feel about their stay, and whether they will come back to your hotel. While cleaning is something of an invisible service Ė you may rarely get a thank you Ė guests certainly notice if the cleanliness of their hotel room does not meet their expectations. Both rooms and common areas should be spotless.
‍
Read on to discover how to deliver your best ever service for every single guest, with our step-by-step comprehensive cleaning guide.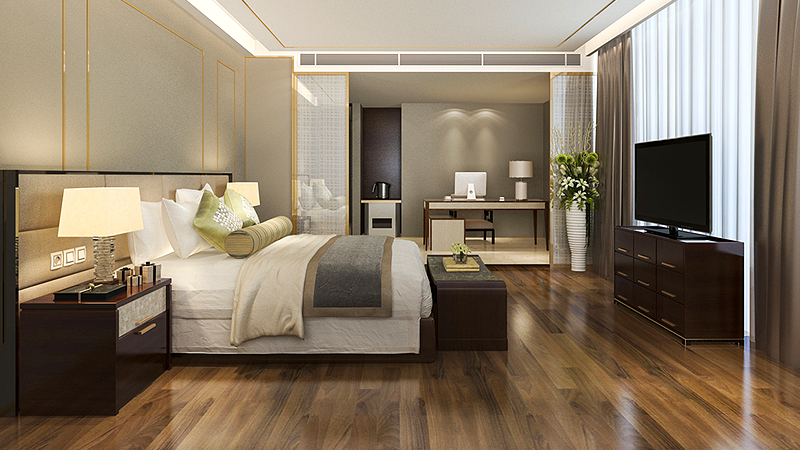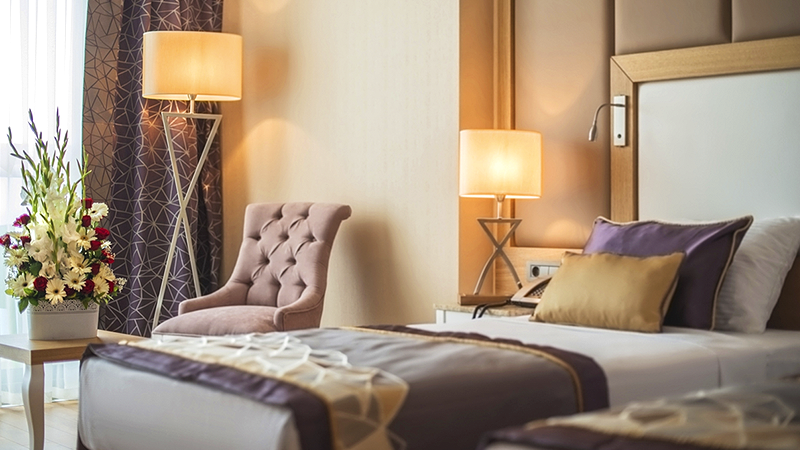 Air out the space
From the smallest room to one of the largest suites in your hotel, itís important to get fresh air circulating after each guest has left. If you open the windows as you enter the room, it will quickly become a part of your regular routine. This will leave the room feeling like new.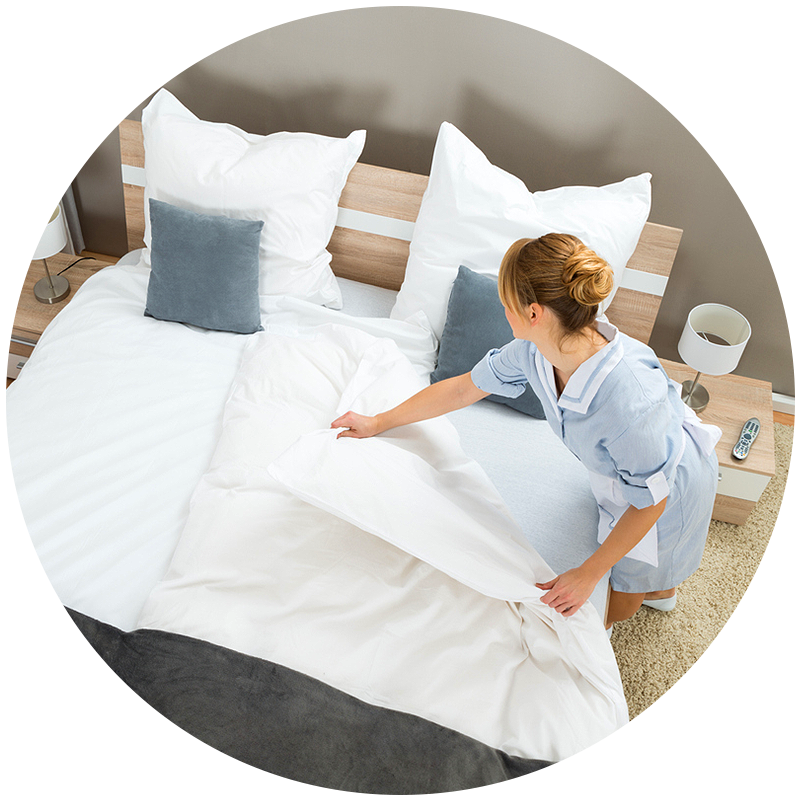 Strip the beds
This is a vital first step when it comes to removing the traces of the previous guest. Strip the sheet from the bed and then you can put the duvet cover, pillowcases, towels and other things that need washing into the sheet. This makes gathering up all the hotel bed linen for laundering much easier, so you can simply deposit them into your laundry bag without making too many trips.
Check For Damage
Make sure to check over the mattress for stains, damage, or hairs. This really matters Ė a little hair might not seem like a big deal, but it is incredibly bothersome and feels unhygienic to find someone elseís hair in your bed. If there is visible damage to the mattress, you will need to make sure that you report this using the procedures put in place by your employer or superior.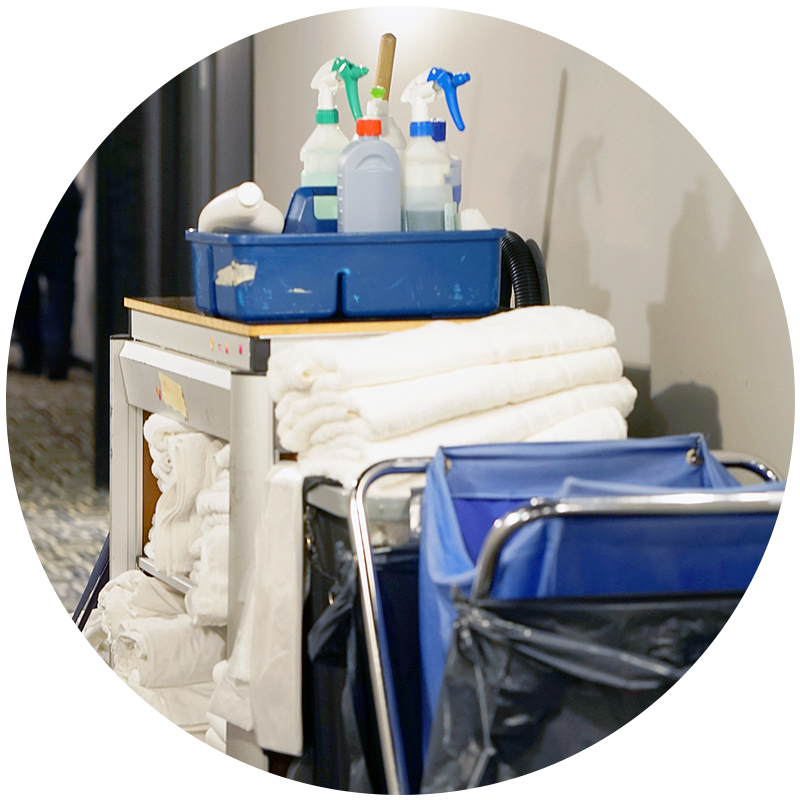 Clear out the rubbish
Guests can leave rubbish lying around, not just in the bins provided. Make sure that the bin in the bedroom and bathroom are fully emptied, and that there are no lingering bits and pieces lying around on desks or bathroom counters. Donít forget to put fresh bin liners in as you go Ė itís easy to forget this step, so put the liners in an easy-to-see place on your housekeeping trolley.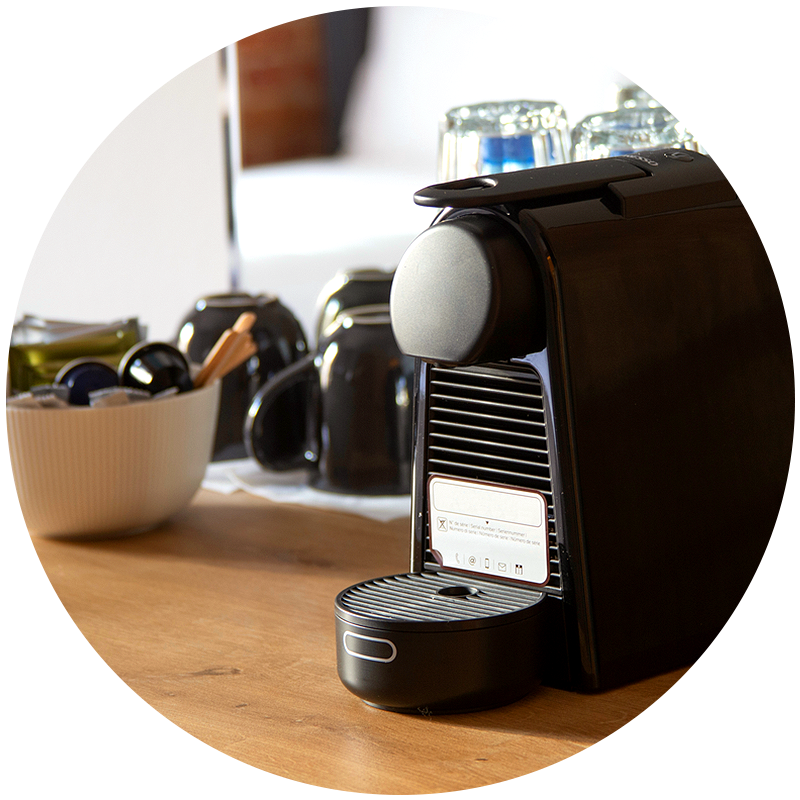 Tidy away used cups and replenish supplies
No one wants to arrive in a hotel room to discover a lipstick smudged cup or glass. Remove used cups, glasses, saucers and spoons. Replace these with new ones, and donít forget to check for a glass in the bathroom. Take this opportunity to replace any hot drinks supplies and complimentary biscuits, empty the kettle and clean the coffee machine, if there is one. If there is a minibar, follow your employerís rules on replenishing this and noting any missing items.
Bust The Dust
Dusting is a big part of your cleaning routine. Work from the top down, making sure you dust areas that are higher up and hard to reach first. Finding a dusty surface can really spoil a stay, so pay special attention to every surface, right down to the skirting boards. Be sure to dust headboards, pictures, and the tops of wardrobes, as well as the edges of any furniture. And donít forget those electrical items like the TV screen. Your guests will appreciate the effort.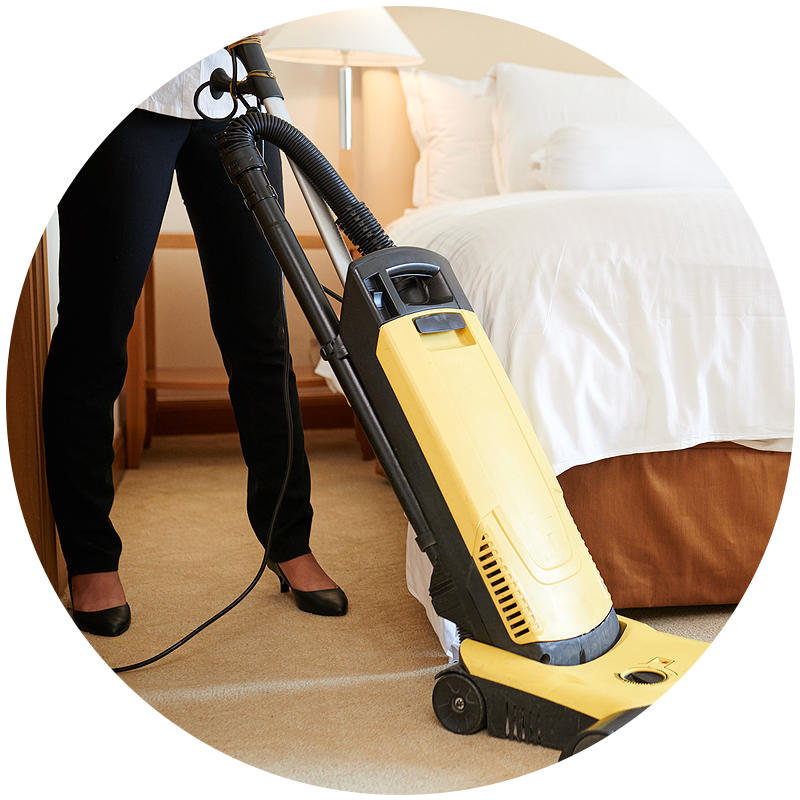 Hoover thoroughly
Your trusty hoover is not just for the floors. Of course, you do need to pay attention to the floor in both the bedroom and bathroom, catching easily missed areas such as behind the toilet and under the bed. However, it is equally important to utilise your hoover's attachments on the furniture. This keeps things extra clean and makes the room feel newer for each new visitor.
Clean, disinfect and sanitise surfaces
It is more important than ever to make sure that every single surface is cleaned down fully. Read our related article Safer Reopening Tips For Hotels During The COVID-19 Pandemic.
Make sure to use clean cloths for each room and never cross-contaminate by using the same cloths for the bedroom as you do the bathroom. If you are cleaning the room of a resident guest, be careful when you move and replace their possessions. And donít forget to fully sanitise remote controls and other bedroom staples such as lamp switches. Itís a good idea to use disinfectant wipes for smaller surfaces especially, as you can really get between small buttons or kettle handles.

Clean the bathroom
Make sure to do a thorough job of wiping down the surfaces and sanitising the toilet and shower. Pay special attention to the glass and tiles in the shower Ė while this isnít a deep clean, there can be product build-up on the tiles and around the shower and bath area. Replace the towels, toilet rolls and any other hotel toiletries provided. Wipe down towel rails and door handles. Finally, wash down the floor once youíre finished, so you donít have to walk on it again. This will leave a sparkling surface.

Replace the bedding
As long as no issues or damage have been detected, put on new sheets, duvet covers and pillows in the style expected by your hotel, achieving a uniform standard. Replace decorative pillows, if there are any. Make sure the bedding is smooth and has no hairs on it.

For a great daily clean, you canít go wrong with this list. What are you waiting for? Put these tips into action and create a beautiful, clean space that guests will want to return to again and again.